If you own a Venus flytrap, you might be interested in feeding it. This article goes into great detail on how to feed a Venus flytrap. Start with the basics and become an expert. It is a fun process.
When feeding a Venus flytrap, employ bugs that can fit inside a trap and drop the insect in between the trap's lobes. Venus flytraps are not designed to digest human food; they prefer insects and arachnids. They can consume dead of live prey.
Feeding a Venus flytrap is essential for their health. The feeding process is not too hard, but you must follow the instructions to avoid harming the plant.
The Venus Flytrap Feeding Process
In the wild, Venus flytraps live in inferior growing conditions. The soil in the area is very poor. As a result, they are unable to gather critical nutrients from the ground, like Nitrogen, Potassium, and Phosphorus.
Venus flytraps produce most of their food through the photosynthesis process. They can live just through photosynthesis thanks to the abundance of light and water. However, their diet is not complete without consuming bugs.
Venus flytraps capture and digest bugs inside of their leaves. Through digestion, they extract essential nutrients to boost their diet. Even though consuming those insects is not required, Venus flytraps with access to feed tend to grow faster and appear to be a lot healthier.
In the outdoors, Venus flytraps can capture their own prey. But indoors or in highly urbanized areas, it can be difficult for the plant to obtain vital nutrients from their victims. In those cases, the owner can choose to feed their plant. In the next section, I will explain the process.
How to Feed a Venus Flytrap
The following steps describe how to feed a Venus flytrap. Read them carefully:
1.- Get the food ready: Start by finding a proper insect or spider to feed your plant. It can be dead or alive. There is a whole list of options below. But for now, focus on getting an insect that is small enough to fit inside one of the traps of your plant.
2.- Prepare the prey: Once you have the bug, you must get it ready. Dried-up bugs must be rehydrated. Just add a few drops of water to the dead bug and let it absorb the water. Live bugs do not need any preparation. But, since it is a live bug, you should get comfortable handling it. You can use your hands, or perhaps you are more comfortable employing tweezers or chopsticks.
3.- Locate the trigger hairs: Observe the inside of the trap you are about to feed and locate the three trigger hairs in each lobe. They can be hard to identify. The filaments are very thin, and they are located in the center of the lobe. The picture below shows their location.
When feeding a Venus flytrap, you must stimulate the trigger hairs. Something must touch them twice within a few seconds for them to close.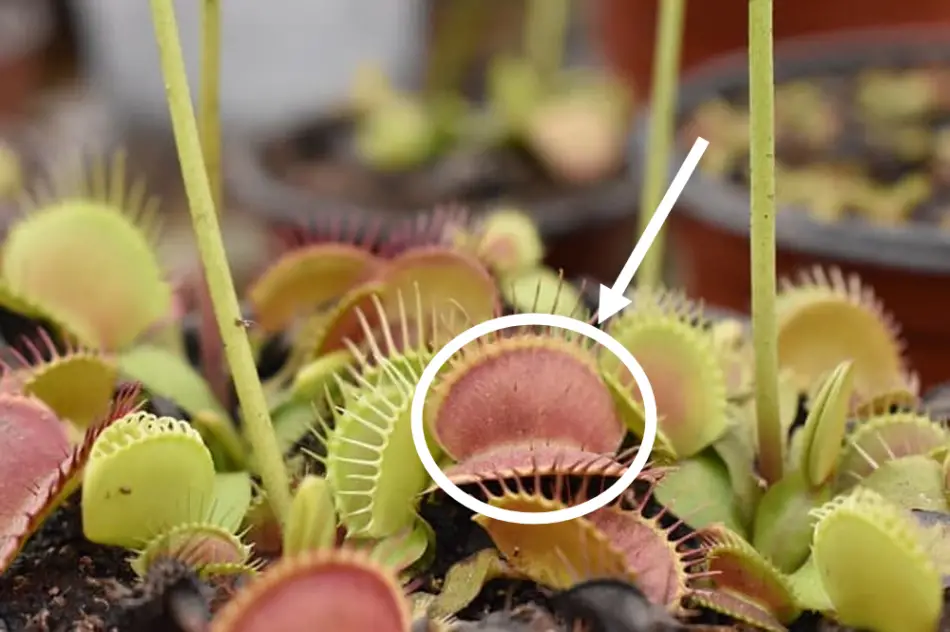 4.- Insert the bug: Grab the insect and place it inside the lobes of your selected trap. Live insects will make contact with the trigger hairs right away, and the trap will close on them. With dead prey, you must stimulate the trigger hairs yourself. When I employ dead prey, like in the picture below, I follow this effective strategy. I grab the bug with chopsticks and place it inside the traps with a brushing motion. At that time, I make sure I have touched the trigger hairs at least two times. Then, I quickly remove the tool out of the leaf, leaving the bug behind.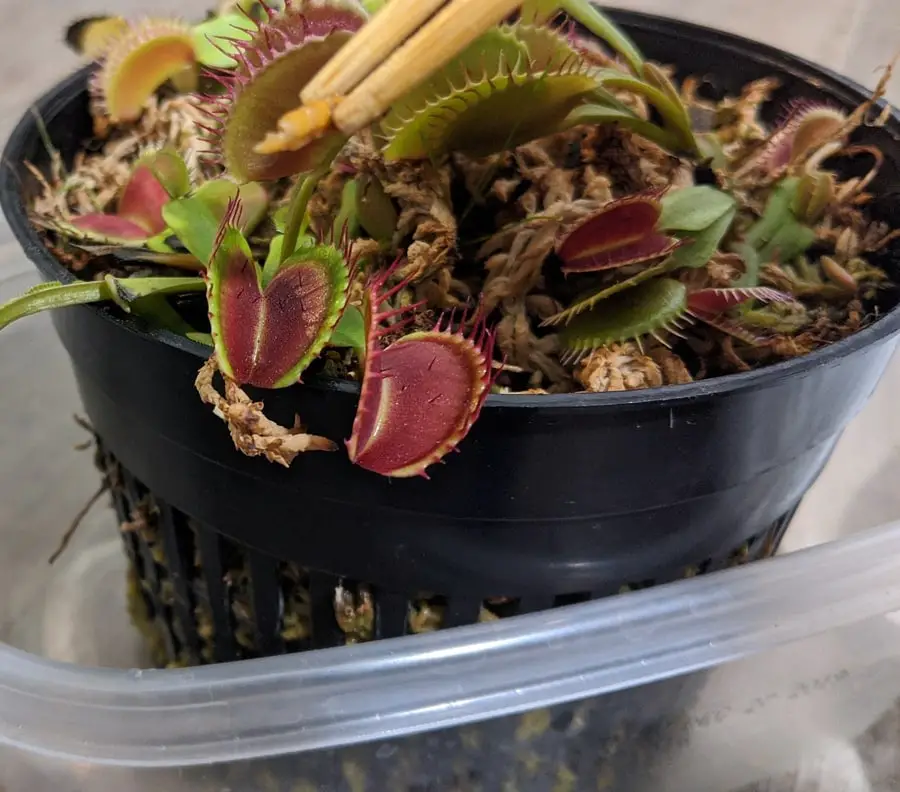 5.- Continue to stimulate: Now, the trap should have closed. However, Venus flytraps take their time to close their leaves completely. First, they go into a semi-closed state. Like in the picture below, the lobes have intertwined, but they are not fully closed. During this stage, the plant is sensing for further stimuli to start the digestion process. The presence of stimuli indicates the plant has caught live prey.
When you employ a live insect, the bug will try to fight for its life. But, its attempt to space will only make things harder, as the traps will close entirely after a few seconds.
For dead bugs, you must complete an additional action: stimulate the leaves. Use your fingers or a tool to press the sides of the trap. Press them gentle multiple times. Do it slowly but consistently for about 30 seconds. Then, the trap will close completely. If it does not close, continue to stimulate for another 30 seconds or until the trap is sealed shut.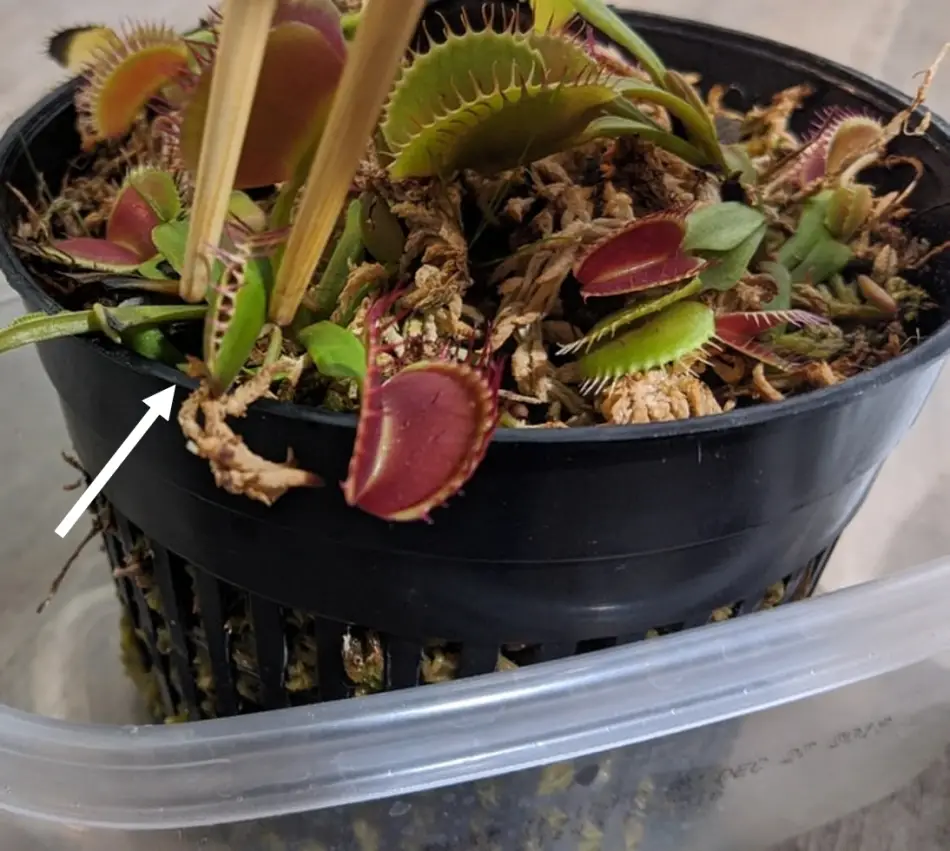 6.- Monitor the leaf: You made it! You have fed your Venus flytrap. Now, it is time to verify the feeding was successful. Leave your plant alone for the next few days, but occasionally observe the closed trap. The digestion process will take several days or even weeks, so do not expect it to reopen soon. Just keep an eye on the leaf and verify it didn't wither.
The main reasons why a leaf withers after a feeding are two:
The insect was too big for the Venus flytrap, and the plant was unable to process it completely.
The leaf was going to die due to maturity, and it was ready to wither.
Keep on reading to learn how often to feed a Venus flytrap and the prey sizing considerations. Then, you will avoid making mistakes when feeding your plant.
Feeding Frequency
Venus flytraps take a long time to digest one single insect. As a result, they do not need to be fed too often. Generally, you want to follow these rules:
Only feed one single trap of the whole plant. The nutrients from one bug will be enough for the plant.
Allow 2-6 weeks between feedings. It is better to let the plant rest between feedings and do not risk overfeeding the plant.
Wait until the plant has thoroughly digested the previous bug before feeding it again.
Stop feeding the plant during dormancy
Which Bug Size Is Appropriate for Venus Flytraps?
Choosing the correct prey size is essential for the plant's health. When bugs are too large for the plant, the Venus flytrap fails to digest it in an acceptable time frame. Then, the plant gives up in the process and lets the trap containing the insect wither. Your plant won't die from losing a single leaf, but it can weaken. Also, if incorrect feeding practices continue, the plant can lose multiple leaves.
As a general rule, choose insects that can fit inside the trap. Generally, it is best to select bugs that are no larger than 1/3 of the size of the trap. When Venus fly traps are young, it is challenging to find such a small insect (besides ants). But, remember, you can break a bug and feed your plant a small enough piece.
How to Feed Baby Venus Flytraps
It is possible to feed baby Venus flytrap. But it can be very challenging. To feed a baby Venus flytrap, you need a dead bug (preferably freeze-dried), distilled water, a toothpick, and a herb grinder or a mortar and pestle. After you gather all the components, follow the instructions below:
Take the dried up bugs and grind them until they have a powder-like consistency.
Add a few droplets of distilled water to the powder and mix. Continue to add water and mix until the product looks like a paste.
Drain any excess of water
Grab the toothpick (or tweezers) and pick up a tiny little ball of the food you made. You can use your hands to shape the paste-like a small pebble.
Carefully place the food inside the trap of the young Venus flytrap. And make sure to activate the trap.
It is not crucial to feed baby Venus flytraps. But, it is beneficial to provide additional nutrients. You will be able to feed a baby Venus flytrap if it has at least reached a minimum size. The picture below shows a seedling. With that size, it isn't easy to feed it without harming it. In that case, it is better to wait until it grows larger.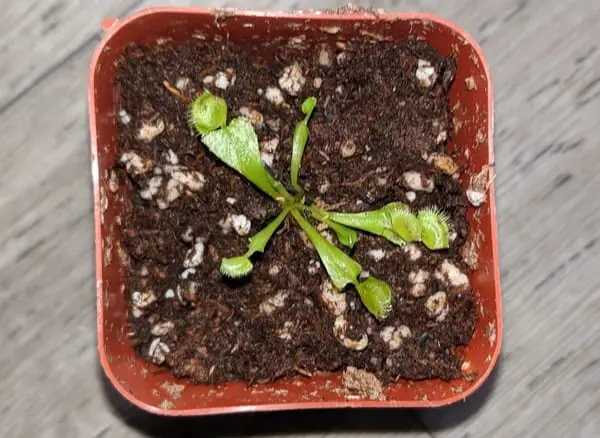 The Best Venus Flytrap Food Options
The previous section mentioned some information about what to feed your Venus flytrap. But, now we can go into more details on the feeding menu.
It is a common misconception that Venus flytraps only consume flies. Venus flytraps consume a variety of insects and spiders. They can even consume larger prey. Venus flytraps are carnivorous plants, they can consume meat. As a result, in the wild, they are sometimes able to capture tiny mice or frogs. But, in your home, you want to stick to an insect-only and spider-only diet.
Live Prey
Venus flytraps can consume a variety of bugs like, for example, ants, flies, crickets, spiders, beetles, slugs, and caterpillar. They can consume any type of insect as long as they can fit inside the trap, and the plant can capture them.
Even though you can employ almost any type of insect, some are better suited than others. For example, beetles tend to try to fight their way out of the traps, and they can be quite strong. Slugs or caterpillars can attempt to eat their way out of their enclosure. Flying insects are difficult to handle, and they can escape easier.
Outdoors or in an external window sill, Venus flytrap might capture a variety of insects. In that case, let your plant trap its own food. It will know how to select its prey.
When using live feed, I like to buy live crickets. You can capture your own live bugs if you have a garden or go to the part. But buying them is just as easy. Small crickets are not too difficult to handle and they are not strong enough to fight their way out of the traps.
When choosing live prey to feed your Venus flytrap, remember you will have to follow the instructions in the previous section. Suppose you do not feel comfortable holding a bug. Or perhaps, the process is too gruesome for you, then go to the next section and choose to employ dead bugs.
Dead Insects
You can also employ dead bugs to feed your Venus flytrap. From a nutritional standpoint, dead bugs can also provide large amounts of nutrients.
It is possible to employ dead bugs you find in your home, as long as they are fresh, and they do not have any mold. Also, consider buying the feed in a pet store. Here are a few options you can find in almost any pet store: freeze-dried bloodworms, mealworms, and crickets. All three options are highly nutritious and economical. You can buy the whole container for less than $10. And it can serve you to feed multiple plants for many years.
I do not have a preference between the three, but I try to alternate the food source every once in a while. All of these bugs are dried up and must be rehydrated before using them. You can employ a whole bug and add some droplets of water, or you can grind the bug and then add some water. Grinding the bug ensures the hydration process, but it is not always necessary.
Finally, another pro of using dead bugs is that it is easy to break up. With live feed, you must find small enough insects that fit inside a trap. With dead bugs, you do not have that problem. You can break up the dried up worm of cricket into a tiny piece and feed it to a young plant.
Can You Skip the Flytrap Feeding Process?
You can altogether skip the feeding process, but it is not recommended. Venus flytraps do not need to consume bugs for their survival. However, they develop at a faster and healthier rate when having access to feed. Consuming a single bug every two months can make a huge difference in the plant's health.
Some people might be intimated by the process of feeding a carnivorous plant, and that is understandable. However, not feeding the plant at all might not be the best solution. Instead, consider placing the plant outdoors. Then, it can capture bugs on its own.
Many Venus flytrap owners are constantly asking about fertilizing their plant. Even though it is possible to fertilize a Venus flytrap successfully, generally, the recommendation is to skip the fertilizer. Venus can't process the highly concentrated compounds in fertilizers. Also, fertilizing the plant is not necessary, as Venus flytraps can obtain the same benefits from capturing prey.
When NOT to Feed a Venus Flytrap
It is not always appropriate to feed a Venus flytrap. In some cases, it is more beneficial to wait before you feed the plant. Here are some concrete examples:
Dormancy: In the winter, Venus flytraps go dormant. Dormancy is a yearly period of rest and recovery. During dormancy, it is not necessary to feed the plants.
Young age: When Venus flytraps are tiny seedlings or young Venus flytraps, it is a challenge to feed them. You can attempt to do it. But do not force it on small plants. They might suffer as their leaves are not fully developed. Instead, focus on providing adequate lighting and a humid environment.
Not enough research: Do not attempt to feed a Venus flytrap if you haven't read the instructions in this article or other guide. Without some basic knowledge, like the appropriate food portions and options, you can end up harming the plant.
Adjusting to a new environment: Venus flytraps, like any other plant, take some time to adapt to a new environment. Avoid feeding your plant when it has been exposed to some changes. For example, wait a few weeks before feeding a plant that has just been repotted or has just been shipped to a new location.
Recovering stage: Venus flytraps are prone to pests, fungus, root rot, and other related issues. Avoid feeding a Venus flytrap when it is sick or in the recovery stage. Do not risk losing leaves or applying unwanted stress to a plant in a delicate state.
Venus Flytrap Care Considerations: Light vs Food
Venus flytraps require good lighting and access, among other things, to stay healthy. But what is more important? The lighting requirement is the most critical for Venus flytrap. These plants need at least 6 hours of sunlight to stay healthy.
The light exposure requirement is more critical due to photosynthesis. It is a crucial process that provides the vast majority of substance for the plant. Still, consuming bugs provides a nutrient boost.
More Food vs More Light Signal
Have you ever wondered if your plant is receiving enough light or enough food? It is normal to doubt your setup. Venus flytraps have unique requirements.
Luckily, Venus flytrapS gives us meaningful signals about their health. Usually, Venus flytraps exhibit bright red and burgundy colors. The burgundy is inside the traps, and the rest is green. When a Venus flytrap is not receiving enough light, the interior of the lobes loses the red coloring. The lobes turn to be almost only green. The reason is simple. The plant is not receiving enough light; therefore, it must focus solely on photosynthesis.
The red coloring will reappear when the plant is exposed to proper lighting. Then, the new burgundy interior will help attract victims to consume.
Before you get started feeding your plant, confirm your whole setup is proper. Like you just learned, adequate lighting is a necessary element for the plant's wellbeing. Also, here is a link to a very detailed article on Venus flytrap care. You can use it as a checklist to confirm your plant has all it needs.
Related Questions
What do indoor Venus fly traps eat?
Indoor Venus flytraps will occasionally catch a bug. But it all depends on the availability of insects rooming around. If no bugs are available, the plant won't have access to feed. In that case, the owner can feed the plant directly.
Can Venus flytrap consume human food?
Venus flytraps are not designed to consume human food. They are small plants that have evolved to capture small insects and spiders. Also, feeding human food to a Venus flytrap can harm it. Do not feed fruit, candy, meat, chicken, or any human food to your plant. The traps might close when you insert the food in them, but the plant won't be capable of digesting it. The leaf will end up withering, and the food inside of it will rot.
Can Venus flytraps eat meat?
Venus flytraps are carnivorous plants. They can consume meat. Some carnivorous plant growers feed their large plants with small rodents or frogs. Big enough plants can capture them and consume them. However, it is only possible with tiny prey.
How does a Venus flytrap eat?
Some believe Venus flytraps chew their prey due to caricature adaptations of these plants. But, Venus flytraps use a unique method to consume their prey. Once a bug is trapped inside the leaf of a Venus flytrap. The plant will start producing enzymes inside the enclosure. The bugs will then stop fighting and drown in the digestive fluid. Then, the enzymes will continue to dissolve the body while the plant absorbs the nutrients. The Venus flytrap digests its prey by using an external "stomach" located in its leaves. Amazing!
How do Venus flytrap eat in a terrariums?
Venus flytraps do not have access to feed in close a close terrarium. That is one of the reasons why many people are discouraged about placing Venus flytraps in terrariums. However, there is a simple solution. Do not plant Venus flytraps in a closed terrarium. Instead, grow them in semi-close enclosures or greenhouse type terrariums. Venus flytraps benefit from the humidity of terrariums, but they have other requirements besides that one.